News
Axione will connect 10 Towns to SIRO's Gigabit Network in Ireland
SIRO, the open-access broadband provider delivering Ireland's first 100% fibre-optic broadband network to 50 towns nationwide, announced that it has signed a €20 million contract with the joint venture consortium of French Telecoms Infrastructure company Axione and its local Irish, professional engineering services partner, Obelisk. The contract will see Axione and Obelisk connect ten towns – Gorey, Courtown, Enniscorthy, Newtown-Kilcoole, Wicklow, Arklow, Carrickmines, Shankill, Bray and Greystones – to SIRO's Gigabit broadband network over the next two years. As a result, over 35,000 homes and businesses in the towns will be able to access the most powerful broadband services in Ireland via SIRO's retail partners.
Axione, part of the Bouygues Energies & Services Group, is a major player in digital infrastructure, providing design, build and operating services for mobile and fibre operators and developing public initiative networks (PINs) in partnership with states and public authorities.  Over the past 10 years it has installed 22,000km of networks to reduce inequality of internet access in France. As part of the public initiative networks (PINs) led by French local and regional authorities, Axione designs, builds and runs next-generation shared digital infrastructure. The PINs in which Axione is involved represent approximately €2 billion in investment and serve 7 million people, 6,500 municipalities and 310,000 businesses. Ireland joins Gabon and the Ivory Coast as Axione's third country outside of France.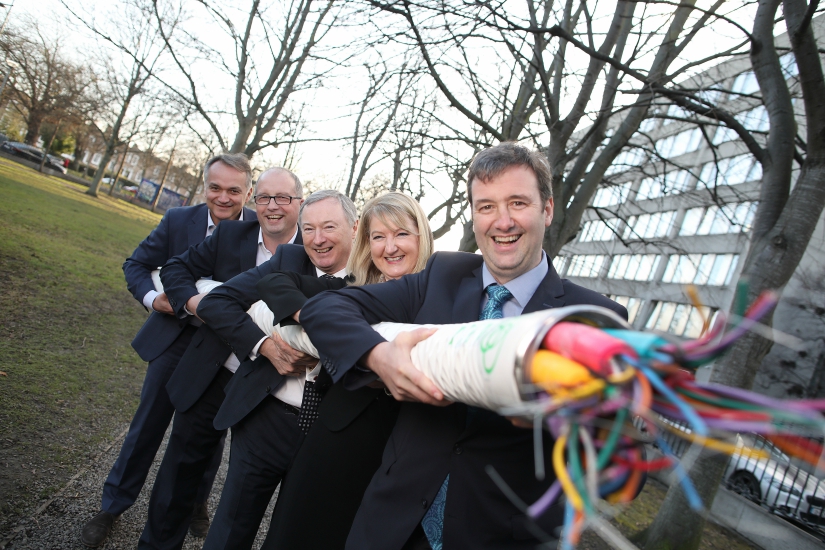 Obelisk is a Cavan based company with its operations centre in Ballycoolin, Dublin. Since its establishment in 1996, it has delivered extensively across the UK and Ireland, growing into a professional, modern, proactive, international company. Obelisk provides solutions and resources to industry across telecommunications, power transmission and distribution, renewable energy and tower infrastructure. Obelisk has already successfully delivered fibre optic infrastructure for SIRO in Drogheda, Balbriggan and Swords, for the past two years as part of the rollout of its Gigabit broadband network.
Commenting on the announcement, Minister of State at the Department of Finance with special responsibility for Financial Services and Insurance, Michael D'Arcy said:
In my work as Minister, I see how reliant the growth of financial services are on access to high speed connectivity. One of my priorities in the delivery of IFS2020, the Government's five year strategy to grow our International Financial Services sector, is the development of the sector across the regions. The rollout of Gigabit broadband through 100% FTTB connections to towns in the South East such as Gorey and Arklow, will put them in the same league as Tokyo and Hong Kong for broadband connectivity. This initiative will increase their attractiveness for foreign direct investment, boost the local economy and make remote working a real possibility for residents in the towns. Fibre broadband is a key component for developing the Smart Economy in the South East and SIRO's arrival is a very welcome development.
Sean Atkinson, CEO of SIRO, said:
SIRO is future proofing the broadband needs of Irish consumers and businesses with Ireland's only 100% fibre-optic broadband network. Following a successful trial of 2,000 homes in Bray last year we are delighted to be with Axione whose expertise, combined with that of Obelisk's successful delivery of over 17,000 homes over the last 2 years, will be vital in achieving this vision in the South East. With over 165,000 homes and businesses already able to access Gigabit broadband services powered by SIRO, we are already seeing tremendous benefits in towns like Skibbereen where O'Donnell Design, a furniture company, has seen their volume of work jump by 25% as their capacity to do business with international hotel chains has been bolstered.
Dominque Astier, Deputy CEO of Axione, commented:
Axione is delighted to be partnering with Obelisk for delivery to SIRO of 100% fibre-optic broadband to these 10 towns, designing and building a network that will meet the requirements of local communities and businesses for decades ahead. We are committed to bringing the expertise we have gleaned in France to Ireland to help contribute to the construction of SIRO's network, which is first of its kind in Europe.
Latest news
Find all the topics that make Bouygues Energies & Services news: projects, innovations, public and client events, partnerships, press releases ...