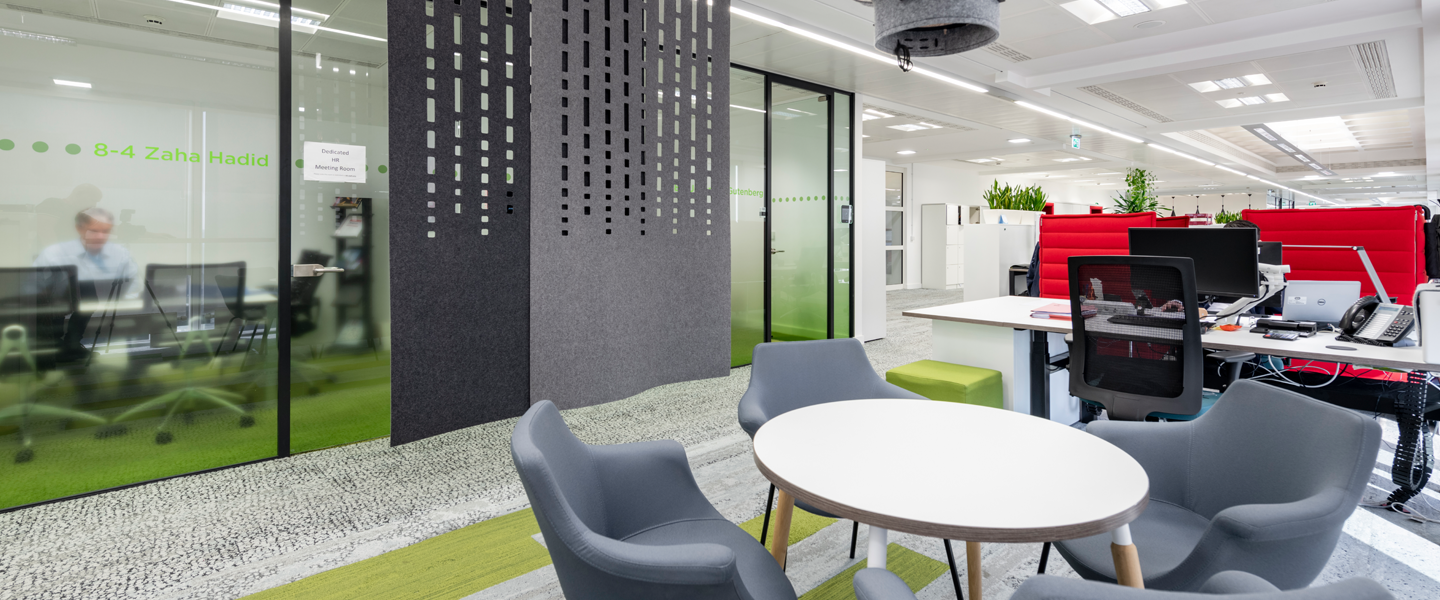 Case studies
7 MONTHS RETURN ON INVESTMENT 
The Challenge  
Bouygues Energies & Services UK Head Office was previously a traditional office, set over two floors with large personal desks and dedicated directors' offices. The organisation was continuing to experience steady growth, and in order to accommodate this an office redesign was required. The principal aim of this project was to move away from individual desks and offices(my space) to create a new working environment with more collaborative spaces, social and meeting areas(our space). 
Our Solution
Bouygues E&S' in-house Digital, Design and Engineering Project Team managed the agile transformation of the Head Office. The team handled the transformation's business case, and were responsible for delivering design, refurbishment management, change management and ongoing facilities management.
Jo Adams, Senior Interior Designer at Bouygues E&S said:
"As the senior interior designer creating intelligent spaces that support new ways of working for this project, data played one of the key factors to making this agile working project a huge success. From understanding how people used their existing space, through to the live environment. Our approach guaranteed a unique experience for visitors and building users."
Data-Led Design
Interviews, workshops and presentations were carried out with all staff, to develop an understanding of how each business unit functions and operates. Hence, staff feedback was captured to find what requirements were needed to create the new agile working environment.
A utilisation study was also conducted to find how staff were using the existing space. Throughout the whole process the team engaged with staff on new ways of working and used collaborative forums, 3D walkthroughs and etiquette guides to foster participation and input.
In order to manage the transition, the team implemented a series of smaller changes using the Kotter '8-steps for leading change' framework. The Bouygues E&S board embraced  the new ways of working and led by example. Patrick Doyle, Head of Energy Business Development at Bouygues E&S said:
"Working at Becket House allows us to be agile day to day, it reduces the gap between different entities, enabling cross collaboration and the sharing of knowledge and information. Each individual team is empowered to work more closely and effectively, no matter what specialism, facilitating improved working, and offerings for our customers."
Benefit to Bouygues E&S
The number of floors has been halved, decreasing square metres by 26%, increasing capacity by 66% and spaces to work by 31%.
After the redesign, an employee experience survey was conducted scoring the working environment in the top 4%.
Latest news
Find all the topics that make Bouygues Energies & Services news: projects, innovations, public and client events, partnerships, press releases ...
One of the largest photovoltaic power plants in France is being built by our teams.

Sustainability is a unifying theme and major partnerships are being established.

Our UK team has been selected by VIRTUSfor the turnkey delivery of its LONDON7

A day of interactive discussion about diversity and inclusion strategy.

Round table to discuss about national and European support for the hydrogen industry.

Project Manager Aaron Yule will lead the team in charge of transforming Ashford's lighting.

Official opening ceremony of the new North Mole thermal power plant

After 1 year of work, the connected control centre of the OnDijon project was unveiled

Because preserving health and safety is and will remain the top priority.

The Top Employers Institute acknowledges the quality of the company's working conditions and its HR policies.

Come and meet us to develop innovative energy solutions together

How is the OnDijon scheme progressing after one year ?

The results of more than 3 years of work presented at the European Utility Week

The international event on urban development.

A successful handover had been completed for Phase 1 of VIRTUS Data Centres' LONDON5 facility.



With Sun'R we have combined our skills to support Lamagistère in its energy transition.

Axione becomes the 86th member of the altnet cooperative.

Our goal : being innovative together.

We will demonstrate that it is possible to put technology at the service of well-being!

SIRO announces investment with joint venture to connect 10 towns to Its gigabit network

Smart management of public amenities will enable local authorities to improve their performance.


Mozambique faces electricity supply challenges due to limited infrastructure required to generate and evacuate power.

Signing of a new contract with Equis, the first regional developer of renewable energies

Award for centralised technical management system of Marseille's L2 bypass

The safety commission met on site and officially recommended that the building could open to the public

Delivery of 4 solar farms 100km to the north of Bangkok

New latest-generation production site for a world leader in carbon fibre manufacturing

An exemplary project combining technical challenges, energy development and local involvement