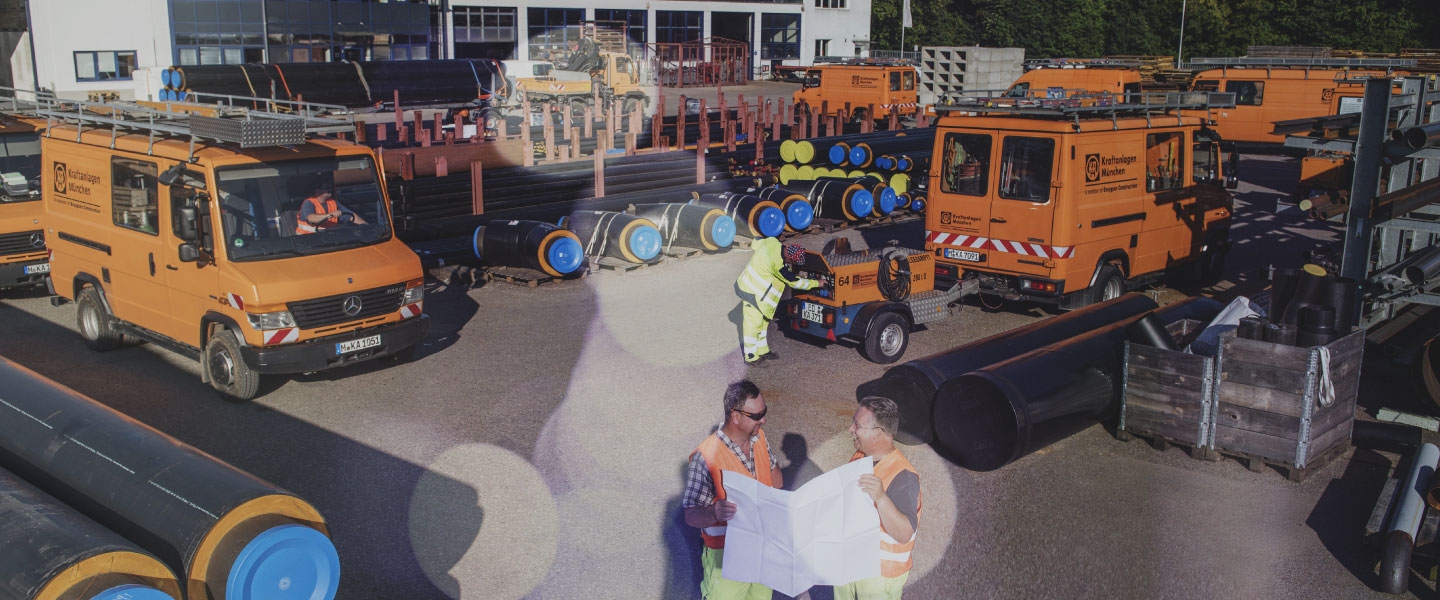 Case studies
A flagship industrial project 
of the energy transition 
IN BRIEF
In January, Stadtwerke Kiel (SWK), a regional public utility in northern Germany, celebrated the official commissioning of its new coastal power plant, the Küstenkraftwerk Kiel. General Contractor Kraftanlagen München (KAM), a constituent company of the Bouygues Construction Group's Energies & Services division, handed over the turnkey gas engine cogeneration plant to its customer SWK at the end of November 2019, after the cogeneration plant had demonstrated its reliability in a twenty-day trial run under various operating conditions with overall availability exceeding expectations.
70%
less CO2 emissions compared with the old coal-fired plant  
 
73 000
homes & facilities supplied with climate-compatible district heating 
 
30 000
m3 of heat storage volume 
 
Context
The Kiel coastal power plant makes an important contribution to the energy transition and sets new standards in terms of flexibility, efficiency and ecological sustainability with its production concept using gas engines, heat accumulators and electrode boilers.
Our service
Kraftanlagen was responsible for the planning, approval, supply, construction and commissioning of the power plant with its 20 gas engines and a total output of 190 MW electric and 192 MW thermal, including all ancillary equipment, including the auxiliary building, the integration of the heat accumulator and the electrode boiler. 
 
In the future, the power plant will supply more than 73,000 households and facilities with climate-compatible district heating. In addition, the electrical energy generated will be fed into the Kiel grid, which supplies households in the capital city and the surrounding municipalities with electricity. Surplus energy is fed into the upstream power grid. The flexibility of the combined heat and power plant is enhanced by a 60-metre high heat accumulator (30,000 m3 storage volume) and a powerful 35 MW electrode boiler (technology for generating electricity from heat). Due to the high overall efficiency and environmentally advantageous properties of natural gas as an energy source, the new plant will emit 70% less CO2 than its coal-fired predecessor. 
 
Stéphane Stoll, CEO of the Kraftanlagen Group, said in his speech:
I would like to thank Stadtwerke Kiel for their trust and their willingness to share the risks involved in such a project and to jointly overcome any difficulties that arise during its implementation. In this project of the future, which is of interest to many energy suppliers, we have further developed a know-how which Germany should regard as an asset in the energy transition. We are proud to be involved in this project and can look ahead with confidence.
Latest news
Find all the topics that make Bouygues Energies & Services news: projects, innovations, public and client events, partnerships, press releases ...
One of the largest photovoltaic power plants in France is being built by our teams.

Sustainability is a unifying theme and major partnerships are being established.

Our UK team has been selected by VIRTUSfor the turnkey delivery of its LONDON7

A day of interactive discussion about diversity and inclusion strategy.

Round table to discuss about national and European support for the hydrogen industry.

Project Manager Aaron Yule will lead the team in charge of transforming Ashford's lighting.

Official opening ceremony of the new North Mole thermal power plant

After 1 year of work, the connected control centre of the OnDijon project was unveiled

Because preserving health and safety is and will remain the top priority.

The Top Employers Institute acknowledges the quality of the company's working conditions and its HR policies.

Come and meet us to develop innovative energy solutions together

How is the OnDijon scheme progressing after one year ?

The results of more than 3 years of work presented at the European Utility Week

The international event on urban development.

A successful handover had been completed for Phase 1 of VIRTUS Data Centres' LONDON5 facility.



With Sun'R we have combined our skills to support Lamagistère in its energy transition.

Axione becomes the 86th member of the altnet cooperative.

Our goal : being innovative together.

We will demonstrate that it is possible to put technology at the service of well-being!

SIRO announces investment with joint venture to connect 10 towns to Its gigabit network

Smart management of public amenities will enable local authorities to improve their performance.


Mozambique faces electricity supply challenges due to limited infrastructure required to generate and evacuate power.

Signing of a new contract with Equis, the first regional developer of renewable energies

Award for centralised technical management system of Marseille's L2 bypass

The safety commission met on site and officially recommended that the building could open to the public

Delivery of 4 solar farms 100km to the north of Bangkok

New latest-generation production site for a world leader in carbon fibre manufacturing

An exemplary project combining technical challenges, energy development and local involvement